Custom Design:  Allow me to design a special piece of jewelry just for you!
Scrap Out Program: I can take your old jewelry and help you to "recycle" it into something new that you will love to wear. Your old silver and gold jewelry can also be traded in for credit towards my ready-made jewelry.
Celebratory Jewelry: Would you like to have a celebratory or commemorative piece done for a special person, event or business?
I can help you design your logo or theme into a one of a kind jewelry piece.
Or if you prefer, I can mold the new piece and duplicate it for you!
Jewelry Repair:  I can re-shank worn out rings, re-tip prongs on gemstones, repair cracks, replace lost stones, fix broken chains, etc.
Lost an earring?  Many times I can re-create and closely match a lost earring.
Jewelry has been my absolute passion for over 47 years. I believe I was born with the innate desire to create.  I have always been captivated by art and delighted in discovering new techniques.
I was born and raised in Lake Oswego, Oregon spending many hours a day outside in our rural neighborhood.  I also spent a good amount of time in our basement doing all kinds of crafts. I think it was my childhood love of the outdoors that has inspired my artwork throughout my life.
My first experience with metal jewelry was in high school.  I actually got to use a torch to solder and melt silver!  There was something so enchanting about that first ring I made in high school art class. It was silver, and set with tiny beach pebbles. The notion that I could take my ideas and transform them into a lasting metal object began my love affair with metal arts.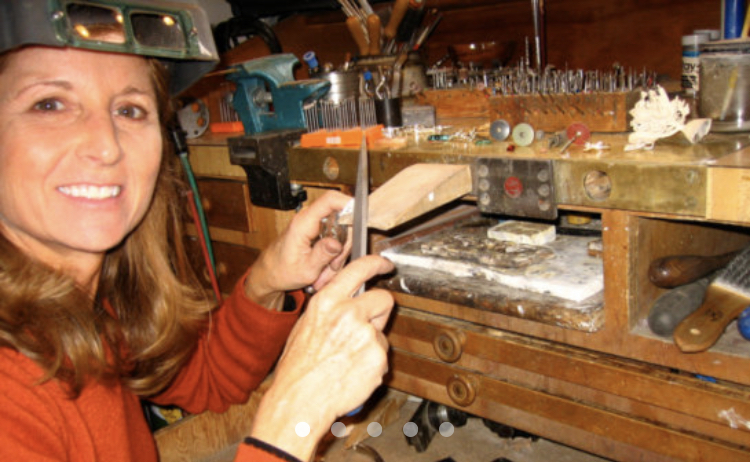 I then enrolled in the Jewelry and Metal smithing program at University of Oregon. Max Nixon was the fabulous professor at the time, and I was fortunate to have studied under him.  I graduated from the U of O with a BA in Fine Arts.  I also took several workshops from masters over the years.
My hubby, Jimmy and I were married in 1979, and with his job we moved to Boulder, Albuquerque, Portland, and Boise.   For several years I worked for jewelry stores as a bench jeweler.  I then set up a home studio and started my own jewelry business.  We spent 27 years in Idaho where my career grew along with our two wonderful boys.  I started selling my work in art galleries and art shows all over the west, winning several awards along the way.  I also began generating an abundance of custom work.
Jimmy retired from JR Simplot in 2013.  With the kids grown and gone; we sold our home in Boise.  We moved around a bit to McCall Idaho, Lake Tahoe Nevada, and Bend Oregon.   We have ultimately landed Mancos, Colorado.   Now we are close to our two sons, daughter in law, and 2 darling grandsons.  I can't even tell you how much this makes my heart happy!  (oops! ..Need to update the family picture!!) 
As for me, I am NOT retiring from making jewelry.  After all these years of poking, scraping and burning my fingers, I  still love what I do!  I will continue to play with metals and gemstones until my fingers and eyes no longer work. 
Member of:
CMAG -Creative Metal Arts Guild
COMAG - Central Oregon Metal Arts Guild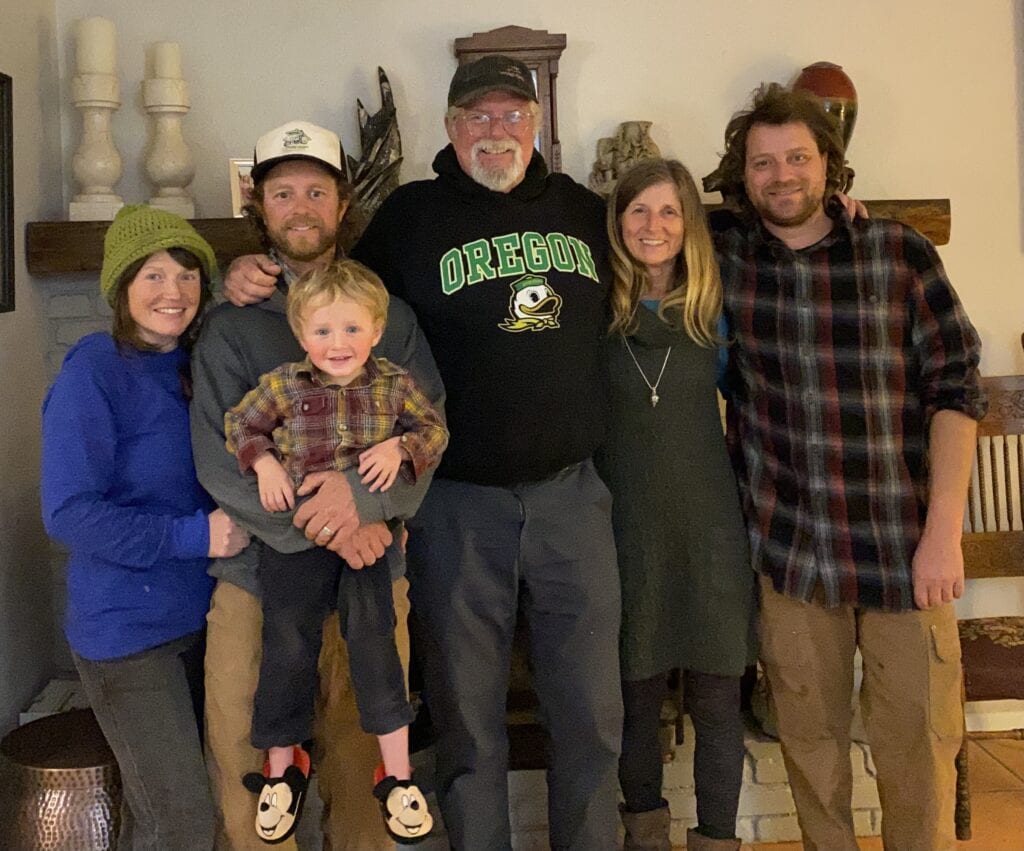 I do all the design and creation of the jewelry pieces myself, from the first rough sketch to the finished piece of jewelry.
To create my jewelry, I usually start with a sketch. I then transfer the design to wax or metal depending on if the piece will be hand-carved and lost wax cast, or fabricated. If the piece is cast, I carve exactly what I want from a block of wax using Dremel type tools (flexible shaft), gravers, and especially re-shaped dentist tools.
The wax is then encased in plaster in a metal flask and melted out in a kiln. I melt the silver or gold in a ceramic crucible using a torch and force it into the plaster mold using a centrifugal casting machine. I then quench the mold in water to break apart the plaster and retrieve the casting. The piece then needs to be finished by filing, assembling, soldering, sanding, setting the stones, and polishing.
To make a duplicate of the first finished metal piece, I can make a rubber mold of it, inject it with wax, and perform the lost wax casting process again. Many pieces can be cast together on a "tree" and then cut apart once cast into metal. They then all need the assembling and finishing again.
Many of my pieces are a combination of both casting and fabrication processes. For fabricated pieces, I use many different hand tools and techniques to shape and texture the metal. Some of the tools I use are files, drills, saws, torches, sandblaster, rolling mill, vises, stakes and hammers, drawplates, gravers, punches, stamps, and dapping tools.
My creations are for the most part gold and sterling silver.  I use recycled metal for my creations, either directly melting down old pieces, or I buy from refiners who recycle old metal.
My inspiration mostly comes from the natural world and just purely "playing" with metals in the studio.  Whatever it is that sparks my creativity; it is in the actual "making" that I get the most satisfaction.